Lois Maharg is an author and journalist.She began her career as a teacher, capped off when she authored a pair of ESL textbooks with her husband. She then became a journalist, working both freelance and as a staff reporter and features writer. She has written about Latino affairs, education, government, health, social issues, exercise, and food. While reporting in Pennsylvania, she won a Keystone Press Award and awards from the Pennsylvania Women's Press Association. Her stories have been picked up by the Associated Press.
Latest posts by Lois Maharg (see all)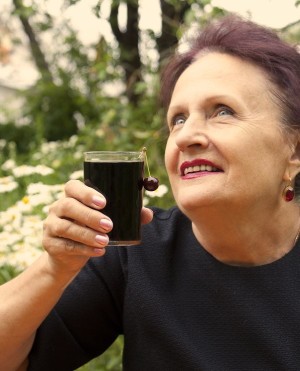 First, the good news: a small body of research suggests that tart cherry juice holds promise as an alternative treatment for insomnia, especially in older adults.
Now for the bad news: tart cherry juice, already pricey, is set to become pricier still as growers weigh whether to give up on cherries and plant apple trees instead. Here's more on the benefits of tart cherry juice for sleep and why it may soon become scarce.
Sleep Benefits of Tart Cherry Juice
A handful of studies conducted on the effects of tart, or Montmorency, cherry juice on sleep suggest it may be helpful for people with insomnia:
The evidence is not conclusive: these studies were small and only two looked specifically at the effects of tart cherry juice on people with insomnia. Still, unless you dislike or can't tolerate tart cherries, drinking tart cherry juice twice a day is worth consideration as an alternative treatment for persistent insomnia.
Melatonin and Tryptophan-Enhancing Effects
Montmorency cherries are rich in melatonin, a sleep-friendly hormone secreted by the pineal gland at night. Melatonin production often falls off as people age, and lower levels of endogenous melatonin can make it harder to get to sleep and stay asleep at night. Tart cherry juice may exert its soporific effects mainly by increasing levels of melatonin at night.
Another mechanism by which tart cherry juice may benefit sleep can be found in the effect it has on tryptophan. Tryptophan is an amino acid humans need but cannot produce themselves, so it must be gotten in food. Tryptophan is a precursor to both melatonin and serotonin, a neurotransmitter important to sleep. Researchers who conducted the 2014 study found that tart cherry juice inhibited the degradation of tryptophan, thereby making more of it available for serotonin synthesis.
The sleep benefits of Montmorency cherry juice may be due to both its melatonin and tryptophan-enhancing effects.
Climate Change and Market Forces
But some fruit growers are now on the verge of abandoning cherry orchards and planting apple trees instead. Two factors are behind the change, according to an Interlochen Public Radio report last week:
Most of the nation's tart cherries are grown in northern Michigan, where almost the entire cherry crop was lost in 2012 due to an early spring followed by over 2 weeks of below-freezing temperatures. Cherry trees planted in Michigan are actually shipped from nurseries in the Pacific Northwest. Extreme weather events there have killed off thousands of cherry saplings. Michigan orchardists who want to continue producing cherries now can't buy enough young cherry trees to replenish aging stock.
Also, the demand for apples is on the rise, and growers are planting high-density varieties so they can plant many more trees per acre of land. Commercial nurseries are now struggling to keep pace with the demand for apple trees. Nursery owners may decide that planting for small specialty crops like cherries just isn't worth it any more.
Now back to trouble sleeping: if you find that tart cherry juice helps you sleep, you'd be wise to stock up on it now.
Published in Home Feature, Sleep
Tags:
insomnia
tart cherry juice
tryptophan