This post was originally published by Outside Magazine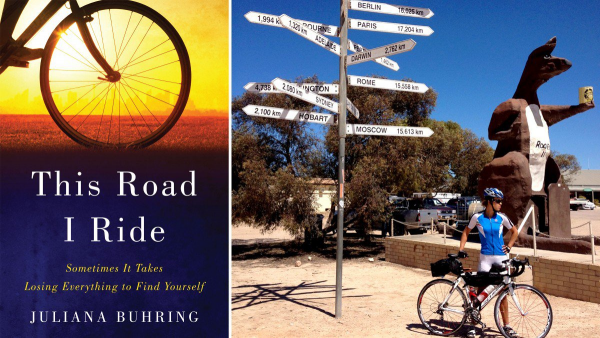 In December 2012, Juliana Buhring became the fastest (and first) woman to circumnavigate the world by bicycle, a 152-day feat that spanned some 18,000 miles, four continents, 19 countries, and 29 tire punctures. It earned her a Guinness World Record and fans all over the globe.
Buhring's adventure—which was even more impressive considering her lack of prior cycling experience—served as compelling inspiration for her second book, This Road I Ride: Sometimes It Takes Losing Everything to Find Yourself (W.W. Norton), which will be released in the U.S. on May 24. (Her bestselling 2007 memoir, Not Without My Sister, chronicled her tumultuous childhood in a religious cult.) Buhring, who lives in Sorrento, Italy, describes the triumphs and tribulations of her round-the-world journey—among them, the kindness of road angels, a gastrointestinal disaster in India, and teaching herself how to repair her trusty bike, Pegasus.
Buhring, 34, took a break from a promo tour in Europe to speak with Outside about the writing process, give an update on Pegasus, and preview her next adventure: the Race Across America, her first supported event, this June.
OUTSIDE: Writing a book is a journey much like a long-distance ride. What was this one like for you?
BUHRING: During the ride, I had to keep a logbook for the record, and it was like a diary, with feelings I would jot down and things that would happen along the way. So when I got back, I had this book basically written. I started putting it in a better format, then I lost the desire for a couple of years. Then I got a book deal and I had to write it. The logbook triggered a lot of stories and emotions I'd forgotten about. Because I wrote the diary as it was happening, it gives you the impression that you're on the journey with me.
The original title was supposed to be Falling Off Bicycles, which is the theme of my cycling career. But the publisher wanted something more dramatic and less comical. I think [the original] is pretty brilliant, and it's still my first choice.
Pegasus himself was a central character. What happened to him?
It's a sad story. I lost Pegasus. The bike manufacturer who gave him to me took him back at the end, which rather broke my heart, since by the end I had changed everything on the bike with my own money—all the parts and the tires and everything. The only thing that was theirs was the frame. And he was covered in all these bumps, scratches, and stickers.
It broke my heart to leave him. But that was the deal. They said they wanted him for their museum, but they don't even have a museum, so he's actually sitting in their warehouse. Poor thing, gone to pasture.
What are you most looking forward to about your first supported race? 
Riding with good food, or at least readily available food. And I'm looking forward to having my particular crew behind me. They're all long-distance cyclists and all hysterical comedians. I'm going to laugh across America.
What's up next after that?
I'm planning a ride in November across Burma and Laos—not a race, but a ride. Some people want me to race more than ride, and I will eventually. But what I really want to do is ride from the tip of Alaska to the tip of South America. I have a list, and it's growing ever larger. I have no plans of stopping.
This post was originally published by Outside Magazine
Published in Body, Fitness